Today I'm linking up with the Fall Follower Fest and want to say hello to any new faces here today! If you'd like to know a little more about us, check out the Mama page to meet my curly haired family. Leave a comment so I know you came and I'll come say hi at your bloggy house!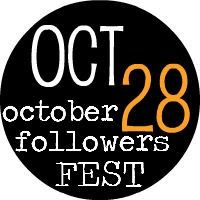 Last year Halloween was purely for our entertainment purposes, we put the boys in a couple of made up costumes and took a bunch of pictures to mark the occasion. This year will probably be much of the same although I put a little more effort into the costumes this time around.
Here are the dudes last year:
Tom Cruise from Risky Business and a baby Tibetan Monk (wrapped in one of my scarves)
AND we had these costumes as hand-me-downs that I put the boys in August of last year before they outgrew them. Probably some of the cutest pictures EVER:
Look at my cute and squishy little babies! Oh I miss when they were so little. So sweet and smiley. It feels like forever ago. Way back when they wouldn't push away my snuggles. Oh well. As they get older I expect each Halloween to be more fun as they get into it and can pick out costumes and make memories.
I threw together their costumes last minute (a.k.a. yesterday) and Julian will be a puppy, Isaiah a panda bear. Here's a little peek at Julian's ears...let's hope he leaves them on.
Gosh he looks old.