This week at The Paper Mama is "Mama and Me". I took these today:
Isaiah can't hide how much he loves my kisses.
Teaching Julian "niiiice" touch versus ripping my face off, which is what he usually does.
I'll also use this one for the "Light" Challenge:
And it makes me happy: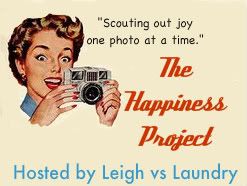 And at the Paper Camera, this week's theme is Show and Tell: Self Portrait:
This is me in all my just woke up at 6 am, super sleepy morning glory. Bags under eyes. No make up. But this little smirk is what is inside, too. It's what gets me through the long/hard/frustrating days. With all I've been through, this little smirk hasn't faded and I think it's helped make me who I am ... the strong woman I am today. The one who keeps on smiling and rolling with the punches. Have a challenge for me? Bring it.
(I wish my hair was always this calm in the mornings! I didn't wash it last night :)
Aaaand Touch Up Tuesday:
Here's my original of Isaiah:
Here's the finished product:
I just adjusted the levels to make his face a little brighter and then warmed it up!