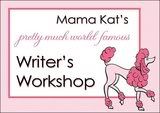 Write a list of 10 things that are sure to put a smile on your face when you are not happy.
Chikezie. Well, most of the time. Sometimes if I'm just in a bad mood, I'm in a bad mood. And him trying to cheer me up usually makes me even more mad! But 98% of the time, he'll do something really stupid to make me laugh. He's the best.

Julian and Isaiah. Their smiles are contageous. When I'm a little frustrated or tired all I need to do is talk to them and I can't help but crack a smile. Such happy little boys. Plus they always seem to fart at the quietest times...which is even funnier.

Hawkeye football. Well, when we win or have done something particularly good. Losses and crappy offense seem to have the opposite effect.

Talking on the phone with my Dad. Like Chikezie, he always manages to say something stupid that makes me laugh. Maybe that's how men are. Women would rather comfort and men would rather just see you laugh.

Wayne's World. Liar Liar. Dumb and Dumber. Could probably say every line to those movies and they've definitely gotten me through the hard times.

Seeing people mildly hurt themselves. Enough to cause a laugh, not enough for me to feel like a jerk for laughing. Nut shots and slips on ice particularly hilarious.

Watching someone trip in public. They usually stare at the sidewalk behind them as if some crack jumped out of the ground and held their foot out of spite. Then, as they walk away trying to look as if nothing happened, they scan the area to make sure they didn't have an audience. Priceless!

Stupid videos on Youtube. Like this:

Watching home videos. Nothing like a little reminiscing to bring a smile to your face.

Smiling! Sometimes the best thing to do when you're unhappy is to smile. It's contageous. Studies have also shown that just the physical act of smiling can improve your mood, even if it's not genuine. So sometimes the only thing you can do is smile!
What brings a smile to YOUR face when you're not feeling at the top of your game?